Gillis Home Building Centre is a locally owned home renovation and building supplies company serving customers in the Sydney and surrounding other areas of Cape Breton!
Canada is a nation of home builders and for most people that means the local building supplies store is more than just a retail business – it is the foundation of their community.
We are proud of our local heritage and are dedicated to putting the customer's needs first! Gillis Home Building Centre can help you with your home project, whether it's a planter box, a garage package, a baby barn, or a whole new home.
Our team of home building and home renovation experts in Sydney NS can help you through your next project from design to landscaping, with first quality materials and expert advice.
The Man Behind Gillis Home Building Centre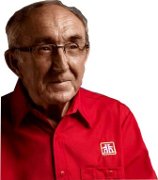 Dave Gillis, the man behind the creation of Gillis Home Hardware, is an Independent owner of Gillis Home Building Centre on Kings Road in Sydney River, NS and he knows how vital his business is to his customers.
Over the last three decades they have flown under the independent Gillis Home Care flag, then went on to be a representative of Timbr-Mart and eventually operated as a BMR Building Centre. In 2008, they became a part of the Home Hardware Family operating as Gillis Home Building Centre.
Dave Gillis may be at the helm of one of the most successful businesses on Cape Breton Island, but it wasn't always that way. Dave was born in Whitney Pier, NS and he said of all of his accomplishments one of the things that he is most proud of, are his early years and growing up in such a tight-knit community. "I was the oldest of twelve children in an area where family was very important, some of my most treasured memories come from my time spent in the Pier."
Working for his father at Patrick's trucking business, independently shipping materials for Co-op Atlantic, Robin Hood Flour and Breton Distributors, Gillis was provided the opportunity to hone his entrepreneurial skills. He would later go on to work for a time for Co-op Building Supplies as a buying agent and then in wholesale at a lumber distribution in Halifax.
It is no surprise that he would go on to do such great things in business, as it was truly in his blood. "My grandfather Stephen A. Gillis, who was in the lumber and construction business and my mother's father, P.J. Connolly, owned a produce brokerage business so I have been around business in one form or another most of my life." With his wife and biggest supporter Charlotte faithfully by his side, Gillis would go on to operate several other building related companies, including Superior Trusses, Gillis Home Installs and has an interest in real estate.
Nobody knows better than Gillis on how fortunate he has been and continues to be in business, and while he will sit and discuss his professional life, the one thing he doesn't like to talk about are his philanthropic endeavors. "I don't like to bring attention to some of the things that I do, I do them because I feel it is important for me to give back to a community that has supported me from the beginning, and I don't do it for the notoriety or to be self-indulgent." Gillis said.
In fact, Gillis Home Building Centre boasts a long and supportive relationship with a number of non-for-profit organizations on the Island. In addition to a number of smaller initiatives, Gillis lends support to organizations like the Breton Ability Centre (formerly the Braemore Home), the Breakfast and Lunch program at the Whitney Pier Youth Club, Children's Wish Foundation, Transition House and the annual Alzheimer's Memory Walk. Gillis said, "When it comes to doing his part for others, it is not a matter of choice, it is a matter of responsibility and it is the right thing to do." Perhaps it is this philosophy that has driven his success for so many years.
Well-informed Staff!
Behind every successful business is a Well-informed Staff! When you enter into any one of the Home Hardware or Home Hardware Building Centre locations across the country, the one thing you notice most is the number of people walking the floors wearing the bright red "Home" uniform. The uniform identifies the people who are there to serve you. Dealers who are fortunate enough to fl under the "Home" banner know how important it is to make the shopping experience as fast and easy as possible, they believe that their staff are front-line workers and they are there to meet customers the moment they enter the store.
If you were to ask any business owner what makes their business so successful they would likely credit their staff. The management team at Gillis Home Building Centre believes that it is their staff and its ability to work together in the best interests of the customer that has the biggest impact on the business. Brenda Timmons is part of the management team and she said they are fortunate to have a number of highly qualified individuals on staff who work hard to ensure they are prepared to serve each and every customer to the best of their ability. "The staff at Gillis Home Building Centre is one that keeps customers' needs fist. They are eager and always ready to go the extra mile when it comes to offering advice, assisting in product selection and helping customers shop in a fast and efficient manner."
One of Canada's Best Managed Companies
Earlier this year, Home Hardware Service Limited was named one of Canada's best managed companies and Timmons feels it is due to the emphasis the independent owners place on customer service. "We are so proud to be named one of the Canada's Best Managed Companies," she said. "They are happy to share the honour with the Dealer-Owners and their staff in over 1,000 locations across the country. "The award shows just how much the commitment of our staff allows Home Hardware Serviced Limited to remain focused on our goal of helping homeowners by providing expert advice and excellent customer service."
Quality Of Service
The staff at Gillis Home Building Centre believe that what keeps customers coming back year after year is the quality of service that is provided and the high level of customer satisfaction that is enjoyed by the company. Satisfaction is guaranteed. If their customers aren't happy, the staff isn't happy.
Timmons said employees put a great deal of emphasis on catering to the customer, they believe that the customer is always right and it is their job to make certain that when they leave the store they do so having had a positive experience.
"We believe that it is our responsibility to show our customers how much we value their business. To do that we must offer them a shopping experience that is positive, informative and efficient."