When designing a new home and you are looking for bathroom design ideas, the Bathroom Design Experts at Gillis Home Building Centre are standing by to help!
When homeowners in Cape Breton or commercial property managers Sydney Nova Scotia need their bathroom updated, they call the Gillis Home Renovation Experts. Whether you need a new vanity, counter-top, shower, cabinets, or fixtures, the Bathroom Design Team at Gillis Renovations have been doing it for over 30 years!
They have remodeled more bathrooms, kitchens and home that most home renovation companies combined in Cape Breton. Their customers has nothing but positive things to say about the expert bathroom renovations that Gillis has completed in recent years.
The bathroom design team invites you to come in to their bathroom design showroom at 1100 Kings Road in Sydney River to choose from a variety of designs that are currently in place.
Once you have made up your mind on which type of bathroom you want designed for your new home, the installation team will get to work and have it completed usually in a few days.
The bathroom installers at Gillis will transform your outdated bathroom with a bathroom makeover that will make your eyes pop. Even if you just want one part of your current bathroom changed around or upgraded, that is fine.
Gills bathroom pros in Cape Breton offer everything in bathroom renovations from complete shower units to bath systems to replacement old outdated bathtubs and tub surrounds. All bathroom products are made with quality in mind that is guaranteed to last a lifetime! Your bathroom will be easier to maintain, cleaner, and healthier.
Make Your Bathroom Renovation Budget Count
Making your your budget count when remodeling your bathroom is important. You want to make sure you have enough money to complete all the renovation according to your dream bathroom plans.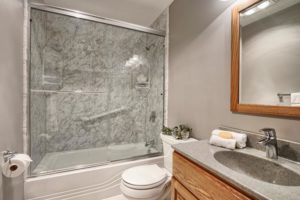 If you are on a limited budget, check with your bathroom design team first. There are many way to achieve a similar look without skimping on quality.
If you are looking for that high-end bathroom vanity look, that's ok, just watch your budget in other areas of the renovation.  Remember, if you plan on selling your home someday, if you do it right, any design changes you make to your home will definitely have a positive effect to the bottom line come selling time.
Some accepts, lighting, and paint can go a long way in transforming your bathroom into a master bath that you can be proud of. So if you are looking for a few changes to your bathroom and are ready to start rejuvenating your space call the bathroom renovation specialists in Sydney NS today – www.gillishomebuildingcentre.ca
Need an en-suite bathroom built or a master bathroom freshened up? The bathroom design team at Gillis Kitchen Designs got your back!
Bath Remodeling

Shower Remodeling

Tub To Shower Conversions

Tub to New Tub Conversions

Walk In Tubs

Eco-Friendly Toilet Conversion

Sink Conversion

Bathroom Floor Upgrade

Bathroom Windows Changed

Replace Caulk and Grout

Creative Lighting

Bathroom Accessories and Fixtures