Gillis Home Building Centre mainly stocks Beauti-tone signature series and designer series, interior and exteriors, primers as well as the tools to help you paint. Have a question? Ask one of our Beauti-tone paint experts!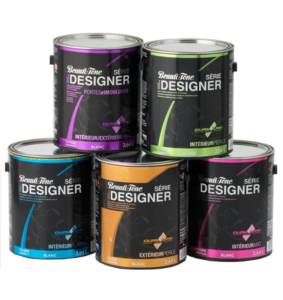 Beauti-Tone Designer Series Paint
Beauti-Tone paint comes basically in 3 lines of paint – Professional, Signature, Designer Series so choosing the right colour schemes that match customer's décor, space and personal style should be an easy and fun experience.
Beauti-Tone Paint is the #1 retail paint brand in Canada so if you want your home to look like a professional painted it, then maybe the Beauti-Tone Designer Series Paint is the answer you are looking for.
It has exceptional quality, many fashionable colours, and it is made to exacting standards that are available exclusively at Gillis Home Building Centre in Sydney River.
The Beauti-Tone Designer Series paint is one of five winners from the 2015 Chatelaine Institute Approved program, where our readers and team of industry experts rated products for value and quality.
Beauti-Tone Signature Series Paint

When it comes to decorating your home, choosing a Beati-Tone Signature Series will make your home look beautiful!
As Cape Breton paint experts, Gillis Home Building Centre can help deciding on colors so you get that intended look and feel for your home painting project, whether it be interior or exterior.
You will want to created a consistent and pleasing theme throughout your home that you and your family will enjoy for years to come. Check out the Beauti-tone DIY color page to get some useful tips when choosing colours for your next project.


Beauti-Tone Signature Series Paint – Eggshell Interior Latex Finish
This desirable low sheen paint is described as phenomenal. It is durable, washable, scrub resistant, and available in thousands of designer colours making it ideal for foyers, living rooms, dining rooms, family rooms, great rooms, and bedrooms. Designated with our Home Owner's Guarantee. Sheen: 5-9 when viewed at a 60° angle.
This is basically an interior paint that is ideal for living rooms, dining rooms, bedrooms and hallways.
The Professional line of Beauti-Tone Paint is designed to meet the requirements for the home reno enthusiast. 4 litres will cover up to 40 square metres (400 square feet), has excellent scrubability, and is long lasting.
Send Direct Paint Questions Here
[contact-form-7 id="10″ title="Contact form 1″]
Paint Your Home Before Selling
You can increase the saleability of your home simply by painting it! There are so many colours so in this case when selling your house it might be good to stick to a neutral palette. Choose the wrong color and you could lose prospective buyers.

Paint is often the best investment you can make when selling your home! The perfect colour for this project should be a balance between captivating and calming, something that most people would love.
The right Beauti-Tone colour scheme will make any room in your home feel more spacious with a harmonious atmosphere. Here are some more painting tips from Beauti-Tone that you may want to look at. Beauti-Tone paint is an exclusive national brand to Home Hardware Stores Limited.
It is Canadian owned and manufactured, with one of the most modern paint manufacturing facilities in North America. We produce products of the highest quality, 100% Canadian and formulated for excellence. Find out more about Beauti-Tone line of paints from Gillis Home Building Experts in Sydney Nova Scotia!
Your home renovation and painting experts in Cape Breton (Gillis Home Building Centre) will be able to offer a complete range of painting, roofing, plumbing and electrical supplies for all your home install or renovation needs – Call To Find Out More – (902) 539 – 0738