Gillis Home Building Centre on Kings Road in Sydney River, NS and he knows how vital his business is to his customers. This year, Dave Gillis and his staff will celebrate 30 years in the building supply business. Over the last three decades they have flown under the independent Gillis Home Care flag, then went on to be a representative of Timbr-Mart and eventually operated as a BMR Building Centre. In 2008, they became a part of the Home Hardware Family operating as Gillis Home Building Centre.
Successful Building Supplies Outlet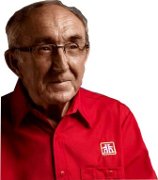 In 1983, Dave Gillis and his late wife Charlotte began a start-up business at the kitchen table and a few filing cabinets serving as their home office. They had no idea back then that their vision to grow a successful building supplies outlet would result in the operation of one of the most respected businesses on the Island. Gillis credits his late wife for his success. "Nothing that I have accomplished thus far in business would have been possible without the support and constant encouragement I received from my wife Charlotte. She was a huge part of the business, she passed away a year ago and her absence is felt daily."
Like Charlotte, Gillis knew that in order to keep momentum of his business going, he needed to be progressive, ever-changing and willing to take on new challenges. He was approached by Home Hardware Stores Limited about 10-years ago and asked if he wanted to join the team. It took him a few years to decide to make the move, but he said he is happy that he did. "I am proud to be a part of a national company that is held in such high esteem. Home is the complete package, and was one the best business moves I've made." Gillis said he is fortunate to be backed by one of the most powerful and respected names in business and to have the mutual support of over 1,000 Home Hardware owners from coast to coast. "Being a part of the Home team is like being a part of a huge family. The company is run with the utmost integrity and I can't say enough about how supportive the team is," Gillis said.
Brenda Timmons is the head of marketing for the Sydney-based business and she said Gillis Home Building Centre is dedicated to helping the independent retailer stay independent. "As part of the Home team we receive a lot of support from head office. Should we need assistance in anyway, there is always support available," Timmons said. She said she travels to product shows on a regular basis and has met many of the dedicated people who are a part of the "Home family". I am always so impressed with the people I meet, they are all so eager and interested in learning as much as they can about the new products that are introduced each year." Timmons said it is no surprise that the national company is such a popular one given that the people who work for the independently owned, 100% Canadian company are so committed to what they do.
Quality Home Building Products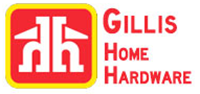 In addition to award winning customer service, people shop at Gillis Home Building Centre because they know they are purchasing quality home building products at competitive prices. As a Home Building Centre, the business is able to offer a complete range of both hardware store and building centre products. Lumber, tools, paint, plumbing and electrical supplies, and an extensive selection of building materials are available, along with housewares, sporting goods, and lawn and garden supplies.
In an attempt to show the customer how much their business is appreciated, Gillis Home Building Centre offers the Price Match Guarantee, meaning that if the customer finds a product at a lower price somewhere else, the price will be matched. "Customers know that we offer fair and competitive pricing, we make sure they won't pay anymore for one particular item at Gillis Home Building Centre then they would at anywhere else," Timmons said.