Dave Gillis and Staff at

Gillis Home Building Centre in Sydney River NS

would like to wish family, friends and customers this past year a very

Merry Christmas and Happy New Year

!
The sales will continue each week during December at Gillis Home Hardware in Sydney NS with specials on every day items as well as seasonal items right through until after Christmas!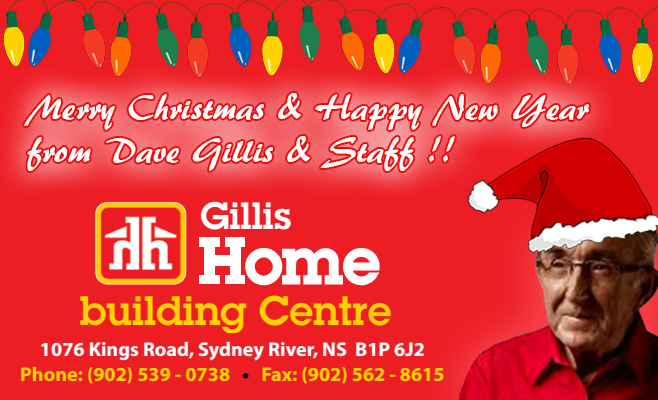 Whether you are stringing up the lights and need new bulbs, a hammer, staples, or duct tape.. Gillis Home Building Supplies in Cape Breton has what you need to get that project completed.
Trying to finish up a new deck or garage this time of year before the snow flies?
Well The home building experts at Gillis have a full team of home design and renovation contractors at their disposal to help draw up plans for your deck, shed or basement apartment no problem.
It certainly is expensive building a brand new home so don't waste a penny of your budget. Talk to a home building expert in Sydney NS before turning a sod or buying new property.
Gillis Home Renovation and Design experts have renovated and built many homes in Cape Breton in the past few years so they know a thing or two about pouring basements, home construction, roofing, siding, and all the finer details of construction.
Don't waste your time on searching up private contractors on Google, turn to the number one home renovation company in Cape Breton – Gillis Home Building Centre for all your lumber and home design needs.
If you want to ask the home install team at Gillis for advice before tackling any larger job like a home renovation or dream home build, don't hesitate to call to book a consultation – (902) 539–0738