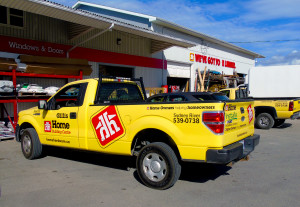 Some of the most popular remodeling options at Gillis Building Supplies in Sydney River, Cape Breton, are kitchen and bathroom renovations.
Any type of renovation to your home will increase the value but none more than a new bathroom or remodeled kitchen. Gillis has many options for renovating your kitchen or bathroom and offer full customization work to suit your taste. Come into the Kitchen and Bathroom Showroom in Sydney River to check out the many styles of kitchen cupboards, cabinets, bathroom vanities, mirrors, and beautiful woodwork on each and every design.
With very affordable pricing, you are sure to enjoy your new bathroom or kitchen for many years to come. Contact the bathroom and kitchen renovation professionals at Gillis today for a free consultation for all your home renovation needs (902) 539 – 0738.
Cape Breton Kitchen Renovations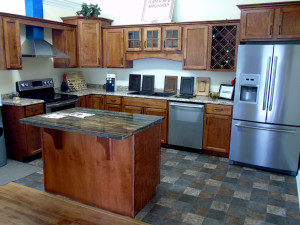 The kitchen renovation team at Gillis is ready to start your kitchen remodeling job today. They can provide a wide range of home building services including everything from a total kitchen makeover to custom cabinet making, kitchen counter-tops, kitchen cupboard repair, and custom kitchen lighting installation.
The Cape Breton kitchen professionals at Gillis Home Building Centre are experts in kitchen renovations and bathroom remodeling. They can also do many type of custom work including millwork, counter tops, cabinets, doors, windows, moldings, trims and many other accessories. Check out the many weekly in-store specials at Gillis to make sure you are getting the best price possible in Cape Breton.
Cape Breton Bathroom Renovations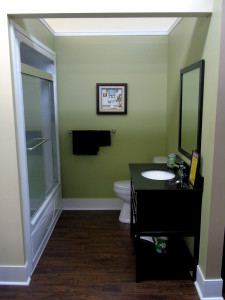 Bathroom renos are tremendously popular in Cape Breton, so much in fact that Gillis had to setup a kitchen and bathroom showroom at it's store in Sydney River a couple years back just to showcase it's many custom bathroom and kitchen designs.
Homeowners can now go into the showroom to check out the many modern bathroom packages and mostly to get a first hand look at some of the many new cabinets, vanities, counter-tops, and bathroom fixtures available to the general public.
Anyone from the bathroom and kitchen showroom will be happy to assist you with your bathroom renovation project and getting you on the road to enjoying your new bathroom or kitchen.
Experienced Home Renovation Team
The fine and friendly folks at Gillis Home Building Supplies offer you over 30 years of experience in the home building and renovation industry. Their job sites are kept clean and professional and have literally completed hundreds of home renovations projects in Cape Breton (references available upon request) in the recent past.
They specialize mostly in in complete kitchen and bath renovations, but also have much experience in home building, additions, interior and exterior renovations, garage packages, roofing, siding, patio decks, sheds, baby barns, and fencing.